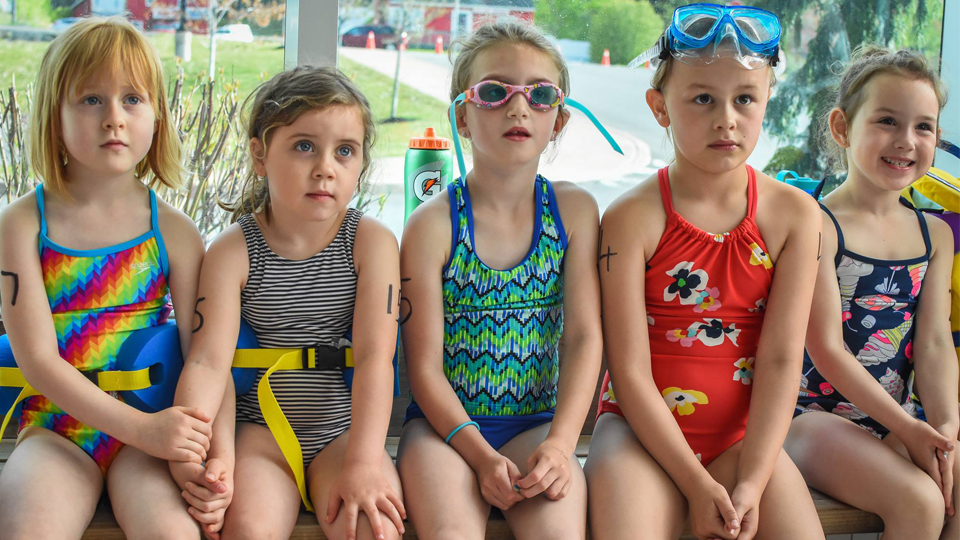 Make a splash
Knowing how to swim can save your life — or even someone else's. Taught by certified YMCA instructors, our swimming lessons will give you lifelong skills to help you be safe in and around the water. But there's more to YMCA swim lessons than just learning to swim. We want children to build confidence in the water, meet new people, and hopefully develop a lifelong passion for swimming!
Explore our swim lessons to find the program that's right for you or your child.
Preschool Levels
Parent and Tot:
An introductory class for babies and toddlers with their parent or caregiver. The goal of this orientation to water class is to experience buoyancy, movement, entries, and songs and play in the water. Ages 3 months – 3 years.
Floaters: (No parents)
An introductory level for children between the ages of 3-5 years old who have not had any previous swimming experience. Children learn to float and swim on their own. (4 children maximum for this class)
Gliders: (No parents) Prerequisite: Floaters
Preschoolers start independent glides and kicking in the water. Endurance is built through increasing distance for front and back swims. Ages 3-5 years
Divers: (No parents) Prerequisite: Gliders
Children are building endurance and working on their front and back swims. Arm action is introduced. Also working on their flutter kicks.
Surfers: (No parents) Prerequisite: Divers
Children working on being more comfortable in the deep water. Surface support is increased to 30 seconds.
Dippers: (No parents) Prerequisite: Surfers
For the stronger preschool swimmer. Building on deep water skills. Introduction to front crawl and back swim. Also water safety. Ages 3-5 years
Learn to Swim Levels
Otter:
Children will learn to do floats and glides unassisted. They will also learn flutterkick, and complete a 5 metre endurance swim. This is the first level of children ages 6 years old and up.
Seal: Prerequisite: Otter
Children will continue to work on their floats, front glides and back glides. Surface support in chin deep water is introduced. Building endurance by increasing the distance of front and back swims to 10 metres.
Dolphin: Prerequisite: Seal
Children begin to work on front crawl, while continuing to increase their endurance to be able to swim 25 metres. Working in the deep water and becoming more comfortable. Surface support for 30 seconds in deep water.
Swimmer: Prerequisite Dolphin
Children tread water for 60 seconds, learn to dive, and have an introduction to rescue breathing. Endurance is increased to 50 metres, and front and back crawl are improved.
Star Swimming Levels
Star 1:
Water safety becomes more of a focus, as candidates learn to do a primary assessment and the Lifesaving Society ladder approach. Children learn elementary backstroke and endurance swim is 75 metres.
Star 2: Prerequisite: Star 1
This level is packed with new skills such as stride entries, time swims, endurance swims and more. Elementary backstroke is the new stroke learned. Endurance swim is 150 metres.
Star 3: Prerequisite: Star 2
Skills such as recognizing weak and non-swimmers, throwing rescue aids and eggbeater are learned. Candidates learn breaststroke, and must complete a 300 metre endurance swim.
Star 4: Prerequisite: Star 3
Children learn how to treat victims with hypothermia and airway obstructions. Sidestroke is introduced, and the endurance swim is 400 metres.
Star 5: Prerequisite: Star 4
Individuals will learn boating self-rescue, as well as compact jumps, and removals. Butterfly is introduced and the endurance swim is 500 metres.
Star 6: Prerequisite: Star 5
Candidates help teach a swim skill, as well as deal with unconscious choking victims. Water polo and synchronized swimming skills are introduced. Endurance swim is 600 metres.
Star 7: Prerequisite: Star 6
Candidates should at this level have learned all of the strokes. All strokes should be at the advanced level. Lifesaving and fitness concepts are focused on at this level.
Did you complete the star levels? Are you wondering what is next?
To learn more about advanced Aquatic courses, like Bronze Medallion and Bronze Cross, please click here.
Adult Swimming Lessons
Whether you're a beginner or a pro, we have Adult Lessons to suit your need. Participants can gain confidence in the water, improve breathing and stroke work.
Autism Swim Lessons
In partnership with Autism Pictou County we provide one to one swim lessons for a half hour each week for persons with autism spectrum disorder and related disorders. The program is focused on teaching water safety and survival first with swimming skills evolving naturally as they progress.
Registration for this program takes place through Autism Pictou County. For more information, please contact Autism Pictou County.
Swimming Lessons will start on Monday, September 9th. To see the schedule, please view the page 13 of the Fall Program Guide. 
Registration is now available. To register, please stop by the YMCA Membership Services. 
Take your swim skill to the next level with a club environment. Club experiences help swimmers improve endurance and improve skills.
Swim Camp
Certified swim instructors teach campers progressive swimming skills daily through skill development and aquatic activities. The YMCA Swim Lesson criteria will track your child's success. Other camp activities include fun swims, games, water sports, outdoor play and fundamental movements. This camp swims twice a day. This is a two week camp. Camps will take place on:
July 15-19
Aug 12-16
To register, please stop by the YMCA. To learn more about summer camp options, please click here.
Pictou County Tri Club
Did you know that the YMCA is also home to the Pictou County Tri-Club?
From beginner to more advanced, everyone is welcome to attend weekly drop-in training meet ups.
Youth Tri Camps
In partnership with the Pictou County Tri Club join us for six-interactive sessions to learn the skills required to complete a triathlon by certified youth triathlon coaches.
You will:
• develop your skills in swimming, biking and running
• learn more about what to expect during a triathlon
• learn skills for transitioning from sport to sport
• learn how to properly set up your bike and equipment
• meet new friends
This program is open to participants (10 to 16 years old) who are new to or have some experience in triathlons. This program will help you develop skills that will be beneficial and transferable to other sports.
What to expect:
• Six fun and interactive youth clinics
• 17 hours of instruction
• Coached by certified youth instructors
• Free entrance to the Melmerby Triathlon, July 20
• Free entrance to the Indoor Triathlon, May 26
Registration is now closed for this program. For more information, please contact Heather at heather.beaton@pcymca.ca.